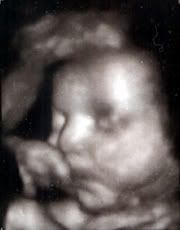 Yesterday, we had our 36-week checkup at the doctor's office. As usual, R is measuring ahead of schedule. There's been some concern about Button's size, so the doctor ordered us to return today for an ultrasound.
Today the sonographer checked Button's size, as well as blood flow, movement, etc., and scored Button on an 8-out-of-8 scale. (sort of like an
Apgar score
, but intrauterine.) She got a perfect score! We also found out that she weighs around 7 1/2 pounds. This means she could potentially weigh around 8 1/2 - 9 lbs. when born, but it's not significant enough for our doctor to take action now. She's waiting to see if R goes into labor on her own (and seems to think she will do it soon), but if she doesn't, Dr. A will induce her on December 14th!