Today, some of R's co-workers threw her a shower. I tried to take photos, but my camera batteries ran out of juice. All I have are photos of onesies that we decorated with fabric paint.
They were judged in the following categories:
Most likely to get "ooh's" and "aahs"


Most likely to get spit up on


Most likely to get baby into Harvard (we're really rooting for Smith, R's alum)


Most likely to annoy R


Most likely to annoy J


Most likely to get baby into "Advantage Behavioral Center"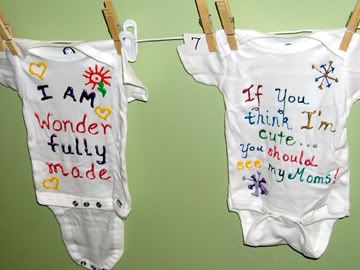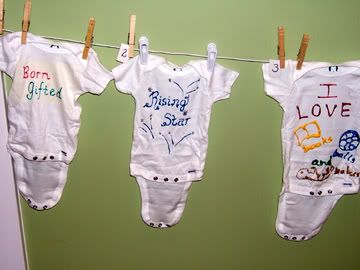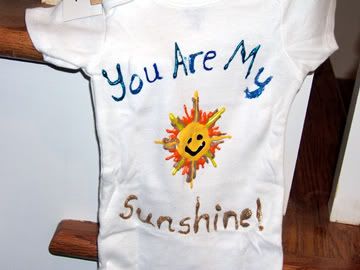 Guess which ones R and J made? (note: R made one, J made two)
So, this woman R teaches with... well, she's crazy. She's a religious nut, which isn't exactly what makes her crazy as everyone is entitled to their beliefs. However, R's had problems with her in the past spreading rumors and saying how we're immoral, etc. R had a firm talk with her and ever since, she's laid off the rumors and talk, but is still quick to brink up Jesus and G-d whenever she can.
Anyway, she came to our shower and gave us a gift with a card. The card:
In case you can't see the image well, it says:
You are a special person. G-d loves you deeply even though you may not be cognizant of it right now. I believe this baby is going to bring you closer to G-d and his personal love for you and to heal all your wounds from the past.

May this child bring you great joy. I have prayed for her several times. I believe she is going to come to know Jesus Christ love for her as a young child.
What the fuck?! Who in the world uses a baby shower as an opportunity to say something like this? "...heal all your wounds from the past..." -- give me a break! I can appreciate her belief in something, but to use it to imply that we are somehow broken is unacceptable. I guess she is, as R's mom says, "more to be pitied than censored."
Anyway, we really did have such a great time this morning. The ladies who put the shower together even bought us a disposable camera so that we could take photos, in case we didn't have our camera with us. Since mine died, we used the disposable one a lot and I'll be sure to post photos once I get the pics developed.